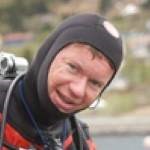 Anders Fredriksson #2
Göteborg, Sweden My passion for diving began in the early 90's on the Swedish west coast. As my dive experience grew, so did my interest for educating divers and in 2002 I went ahead with my plans and became an Instructor. I've been teaching technical diving since 2009. I appreciate most forms of diving and happily vary wrecks with coral reefs, caves and mines.

As a diver you never get fully learned. There will always be something new to learn, another experience to make, another skill to master etc. All you need is motivation, humility and an open mind.